Good morning, and welcome to our rolling coverage of the world economy, the financial markets, the eurozone and business.
All eyes are on Riga as the European Central Bank weighs up whether to pull the plug on its stimulus programme, despite signs that the eurozone recovery is slowing.
The ECB governing council faces a tricky decision as it holds its monetary policy meeting in Latvia today. Its huge bond-buying stimulus programme runs out in September, so policymakers must decide whether to call time – or extend the scheme into 2019.
The ECB has bought more than €2.5 trillion bonds under its quantitative easing (QE) programme, in an attempt to fight off deflation. It's currently committed to buying €30bn per month until September.
Hawks on the council believe the scheme has run its course, and would like to pull the plug. But, with growth slowing in the eurozone – particularly in Germany – and geopolitical tensions growing, the ECB may be reluctant to turn off the QE tap.
A decision could be delayed until July's meeting, but at the very least the governing council must discuss the issue today. They must tread cautiously, or risk spooking the markets and triggering a sell-off.
Traders will be keen to hear Mario Draghi's views at the press conference following the decision. President Draghi should expect questions on trade war fears, and the new government in Italy.
Konstantinos Anthis, head of research at ADS Securities, explains:



The stakes are high for the ECB President, and for many people he has to send a message that the European central bank is planning to end its asset purchases' program and the date to start that has to be September.

There has been a lot of chatter leading up to this meeting and if, for whatever reason, Draghi fails to deliver what investors expect then the euro will be in trouble.
The ECB will also release its latest growth and inflation projections, which will help determine what they do today.
Whatever the ECB decides, they are lagging far behind their counterparts across the Atlantic. Last night the US Federal Reserve vote to raise American interest rates to 2%, and signalled that it expects two more hikes this year.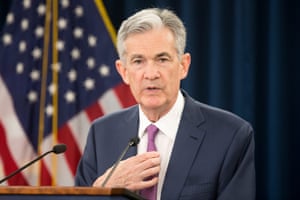 Fed chair Jerome Powell insisted that America's economy can handle higher borrowing costs, declaring:



"The decision you see today is another sign the US economy is in great shape.

"Growth is strong, labour markets are strong, inflation is close to target."
Also coming up
It's been a tough few months for UK retailers, with tens of thousands of job cuts and several chains shutting down. So the latest UK retail sales figures, due this morning, could be interesting. Economists predict growth slowed to 0.3% in May, down from 1.3% in April
Plus, it's a bad day for Rolls-Royce workers as the engineering firm announces thousand of job cuts.
The agenda
9.30am BST: UK retail sales for May
12.45pm BST: ECB decision on interest rates and QE
1.30pm BST: ECB press conference with president Mario Draghi
Facebook Comments